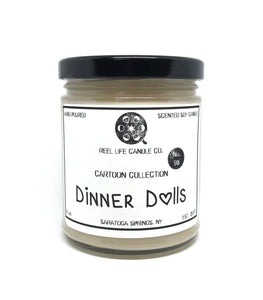 Dinner Dolls
Regular price
$9.00
$0.00
 "Let's get you started with those Cinnamon Buns you ordered." "These better not show up on the check, I know your tricks!" "They're complimentary." "Well, they should be free!"
Scent Profile:
Cinnamon Buns
Buttery Icing
Color: Tan, Phthalate free
Additional Information:

2.75oz Wax Melts - Plastic Clamshell with 6 Cubes
4oz Tin Size - Approx. 20-30 hour burn time. Metal Tin with Metal Lid, Cotton Wick. (1.63"H x 2.5"W)
9oz Jar Size - Approx. 45-55 hour burn time. Glass Jar with Metal Lid, Cotton Wick. (3.5"H x 2.75"W)
---
Share this Product
Buttery heaven!
I ordered these last year and am JUST NOW opening this one! It smells sooo good! It's a light scent, not too overpowering, and when you catch a whiff, you're in heaven!' Highly recommended for smaller rooms, due to the light scent!
Dollicious
The wax melts smell JUST like a cinnamon roll!! I'll be melting these a lot
Or will you be needing one of our dinner dolls?
Pleasantly surprised with how this candle smells. It makes me want to make some cinnamon rolls, but hold the dolls. No seriously, this scent reminds me of walking past a Cinnabon store in the mall and instantly wanting a cinnamon roll.
Just from the smell, I can sense that cinnamon rolls are on the way to my table full of creepy dolls!
---
More from this collection