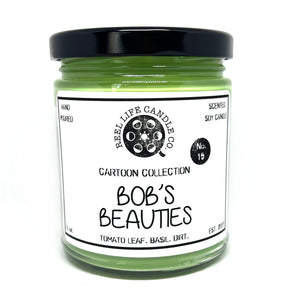 Bob's Beauties
Regular price
$9.00
$0.00
This scent will bring you right to Bobs Plot at the Community Garden! Inspired by Bob's Burgers!
Scent Profile:
Color: Green, Phthalate Free 
Additional Information:

2.75oz Wax Melts - Plastic Clamshell with 6 Cubes
4oz Tin Size - Approx. 20-30 hour burn time. Metal Tin with Metal Lid, Cotton Wick. (1.63"H x 2.5"W)
9oz Jar Size - Approx. 45-55 hour burn time. Glass Jar with Metal Lid, Cotton Wick. (3.5"H x 2.75"W)
---
Share this Product
Smells so fantastic!
The wax melts smell fantastic!!
Garden candle
Thought that it would be impossible for a candle to smell like a garden....turns out you can!! I'm obsessed with Bob's burgers. I love the show and this makes it better!! Will eventually buy the collection a bit at a time.
A garden in a jar!
This smells like a tomato plant and fresh cut grass and and my herb garden. So refreshing and makes me dream about spring time😍
---
More from this collection